ABOUT MOTIVATIONAL SPEAKER AND SCHOLARSHIP COACH, MARIANNE RAGINS
In Marianne Ragins senior year of high school, she won over $400,000 in scholarships for college. As perhaps the first student ever to amass nearly half a million dollars in scholarship money, she has been featured in many publications including USA Today, People, Newsweek, Money, Essence and on the cover of Parade. She has also made hundreds of radio and television appearances on shows such as "Good Morning America," "The Home Show," and the "Mike & Maty Show."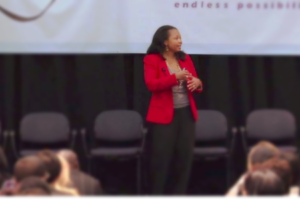 Ragins is the author of the highly successful Winning Scholarships for College: An Insider's Guide, College Survival & Success Skills 101, and other publications. She is the president of The Scholarship Workshop and sponsor of the Leading the Future II and Ragins Braswell National Scholarships. Ragins is an experienced motivational speaker and lecturer who has traveled nationally and internationally conducting The Scholarship Workshop presentation and giving other motivational seminars and speeches.
Marianne graduated Summa Cum Laude with a Bachelor of Science from Florida A&M University and received an MBA from George Washington University. Both her degrees were entirely funded by scholarships and other free aid. Marianne is originally from Macon, Georgia and currently resides northern Virginia.
WHY YOU SHOULD
 

ENGAGE MARIANNE RAGINS

 

AS A MOTIVATIONAL AND INSPIRATIONAL SPEAKER
Ms. Ragins is a powerful and passionate presenter who has tremendous knowledge and expertise regarding the college scholarship search and application process. She has provided the keynote address for our annual College Scholarship Conference for 5 consecutive years, and each year I continue to be impressed by her dynamic and comprehensive presentation. She has the unique ability to engage audiences of all ages and backgrounds, including traditional age students, adult learners, parents, and professional educators. Folks leave her workshop empowered and inspired to execute the scholarship search and application process by using the practical strategies she shares.  Mrs. Ragins is a superb speaker and a consummate professional. She does not disappoint!
Dr. D. A. Bright, Chair – College Scholarship Conference – Montgomery College
Marianne can inspire your audience with an engaging speaker who has mesmerized audiences for years with personal examples. The most frequently used words when describing her presentations. "Awesome!" "Excellent!"
Marianne can motivate your students, parents, and educators to exceed all expectations, including their own. To keep your audiences engaged with humor, interesting anecdotes, and amazing facts
Marianne can inform your audience with relevant examples and stories of success that relate to students and parents in numerous situations. Marianne can not only provide information relevant to mixed audiences of youth, parents, counselors and other educators, she provides powerful information for at-risk youth, minorities, middle-class students, non-traditional students, and

 

1st generation.
Marianne can give your students an immediate scholarship opportunity. All attendees of the Scholarship Workshop presentation become eligible for the Ragins/Braswell National Scholarship, a scholarship offered by Marianne exclusively to audience attendees.
MARIANNE RAGINS: INSPIRATIONAL SPEAKER FOR STUDENTS
Marianne is a member of the National Speakers Association and an industry member of the International Interior Design Association (IIDA). In addition, Marianne is a sponsor for the Ragins/Braswell National Scholarship and the "Leading the Future II" Scholarship.